Yahoo Mobage, the PC-based social games platform run by Yahoo Japan and DeNA (Mobage on mobile phones), has been off to a good start after the launch in the fall of 2010: in January 2011, DeNA reported that Yahoo Mobage crossed the 2 million mark after 104 days.
If data coming from Nielsen Japan is to be believed, however, things aren't looking too good lately, at least in terms of traffic.*
Here's the chart that Japanese tech blog TechWave recently released (based on data from Nielsen Japan/translated by me):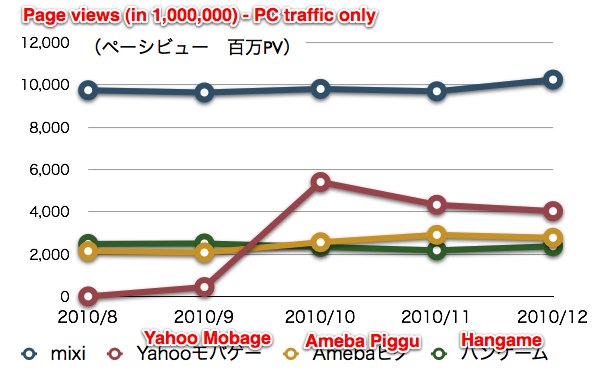 So according to Nielsen Japan, Yahoo Mobage's traffic peaked at close to 6 billion page views in October before dropping to about 4 billion in November and December.
That's a significant minus, indicating that social gaming on the PC is a tough nut to crack after all in Japan, even for companies like DeNA and Yahoo Japan.
*But here's why you should take this chart with a big grain of salt:
Mixi is is publicly disclosing their PC traffic, and the numbers aren't even remotely close to those Nielsen Japan is releasing.
To be more concrete, Mixi is stating in their latest financial report [PDF, page 5] they have been seeing 4 to 4.5 billion page views from PCs since August 2010, while Nielsen Japan registers around 10 billion.
And to make things worse, Nielsen sees a small increase in Mixi's PC traffic from November to December while Mixi itself says numbers have dropped from 4.34 to 4.10 billion pageviews in that time frame.
Has Nielsen screwed up or am I missing something?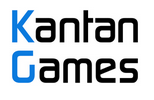 About Serkan Toto
I am the CEO & Founder of Kantan Games, Inc., a Tokyo-based game industry consultancy focused on the Japanese market. Please subscribe to updates on this site via RSS or Email.