There is already a social gaming platform embedded in Japan's real-identity social network Mixi (on both the PC and mobile versions), but that's apparently no reason not to open a second one.
Dubbed mixi Park, the new social gaming platform was launched today by Mixi itself and Konami. Needless to say, a Mixi membership is required for the new service, which comes in the form of separate apps for iOS or Android.
(In other words, mixi Park isn't accessible from within the existing apps for Mixi proper, the smartphone browser version Mixi Touch, feature phones, or the PC.)
The biggest pitch here is that users are represented by 3D avatars.
Konami explains:
"mixi Park" will be available to the over 27 million registered users on the mixi social networking service. Users will be able to create their own 3D avatar, comment on friends' posts, send greetings, and converse via a simple touch of the finger—providing a new way for the mixi community to connect and communicate using fun digital counterparts.
Mixi Park pictures: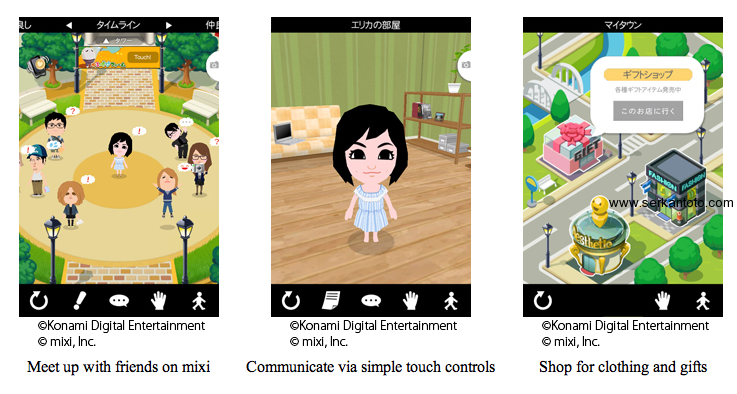 But that for itself isn't a social gaming platfom.
Konami has prepared two social games that connect to Mixi Park, each available as separate apps.
The company explains:
In "Yuru Veggie Farm," your "mixi Park" friends will be able to visit your own personal farm. In "Sokkuri Museum," players can earn points in-game that can be spent via "mixi Park" on avatar clothing and accessories, allowing for a plethora of customization options.
Yuru Veggie Farm is available for Android only, while Sokkuri Museum can be downloaded for Android and iOS (from today):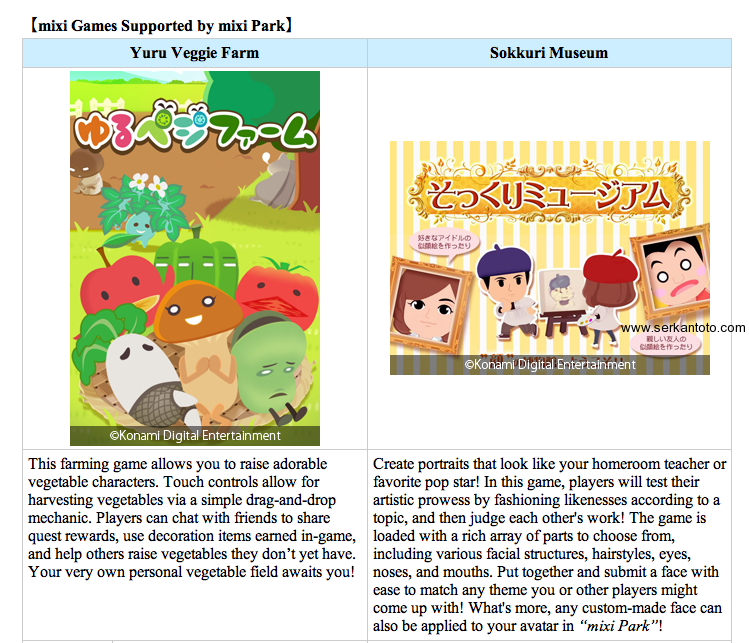 Now the obvious question is why Mixi Park was launched:
Mixi already has a fully functional social gaming platform (on the PC, feature phones, and smartphones).
Apart from Mixi, Konami can use social networking functions found in Mixi Park on Mobage, GREE, LINE, Ameba, etc., too.
Japan already has a cartoony 3D virtual world with integrated social games and 13 million users, CyberAgent's Ameba Pigg (even though Ameba Pigg didn't quite make the move to phones – yet).
I can't come up with a good answer instantly, but Konami already says they will launch more games on Mixi Park in the future.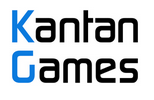 About Serkan Toto
I am the CEO & Founder of Kantan Games, Inc., a Tokyo-based game industry consultancy focused on the Japanese market. Please subscribe to updates on this site via RSS or Email.