Tokyo-based MM Research Institute has released a few interesting stats on the Japanese market for tablets I thought are interesting to share (phones aren't the only mobile devices people over here use to play games, after all).
According to the company, total tablet shipments in fiscal 2012 in Japan stood at 5.68 million units, up 104.3% from fiscal 2011. Growth accelerated in the second half of the year: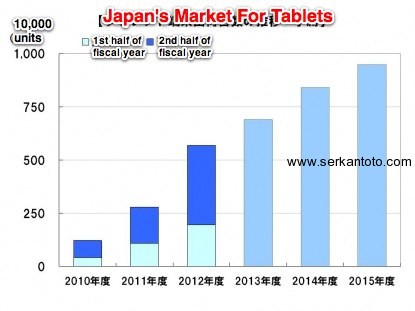 So 5.68 million tablets were shipped in Japan in 2012: is this a strong or weak number?
For context, the number of phones (feature phones and smartphones combined) shipped in  Japan each year is about 5-6 times higher.
More relevant is the comparison to PCs: last month, the Japan Electronics and Information Technology Industries Association reported that PC shipments in this country dropped 1.1% on the year to 11.15 million units – despite the launch of Windows 8 in October 2012, the biggest worldwide (Japanese buyers could choose between over 250 Windows 8-powered devices on the weekend of the launch).
MM Research projects the number of tablet shipments to increase to 6.9 million units in 2013 and reach 9.5 million in fiscal 2015, as can be seen in the chart above.
In other words, the inflection point tablets > PCs is expected in about 2 years – and the market for tablets was essentially non-existent before 2010.
Apple clearly dominates Japan's tablet market
In terms of manufacturers, Apple Japan managed to ship a total 2.98 million iPads and iPad Minis in 2012, reaching a 52.5% market share.
MM Research says that Asus, thanks to the introduction of Google's Nexus 7 in 2012, was second: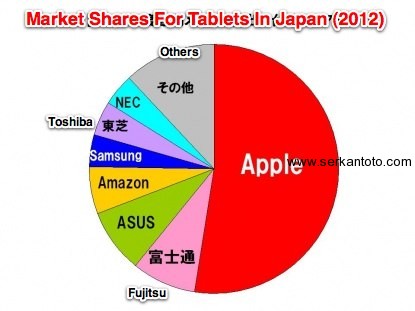 Android is catching up quickly
In terms of tablet OS, MM Research sees Apple ahead with 52.5% market share in 2012 (see above), while Android reached 42.4% (2.41 million units combined).
Other OS, with 5.1% (290,000 units), are not really relevant in Japan currently.
It's interesting to see Android gaining ground very quickly on the Japanese tablet market: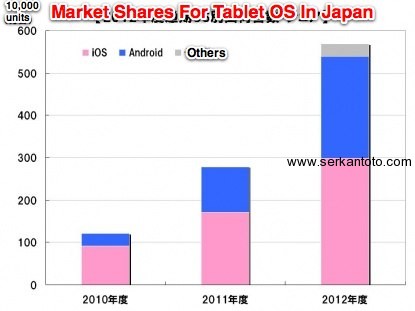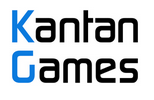 About Serkan Toto
I am the CEO & Founder of Kantan Games, Inc., a Tokyo-based game industry consultancy focused on the Japanese market. Please subscribe to updates on this site via RSS or Email.