Mixi (2121) still hasn't given an official reason why Apple pulled its mega hit Monster Strike from the Japanese App Store over the weekend (they are not obliged to), but the answer seems to be relatively simple.
As I mentioned on Saturday (the day the app went offline), the official Monster Strike page was updated with a curt explanation according to which Apple found the "serial code input form" inside the iOS app problematic.
Monster Strike couldn't be found or updated in the App Store between around 1730 on Saturday until shortly before 1am on Sunday. It can be estimated that Mixi lost around US$600,000 during the time frame (the Android version was not affected).
What Are Serial Codes?
Serial codes are strings of numbers and/or letters that mobile game users can enter into an in-app form to receive special items or currency. In some cases, these items cannot be received in any other way (by paying for them or just playing the game in question).
Serial codes (also known as referral codes) are by no means specific to Japanese mobile games, but I would say that developers over here use the feature much more aggressively than Western ones.
Examples For Serial Codes
Game makers are giving away items if a new user types in a friend referral code (the friend, an existing user, gets the item), send codes to people who pre-register (the user needs to input that pre-registration code when they first open the app to get a special reward), distribute serial codes at real-world events, etc.
In other words, serial codes are tools developers can use for promotion, retention, and user acquisition.
Here is a screenshot of the App Store page of Brave Frontier where Japanese users share their codes inside the reviews (they get in-app currency for free once another player inputs that code):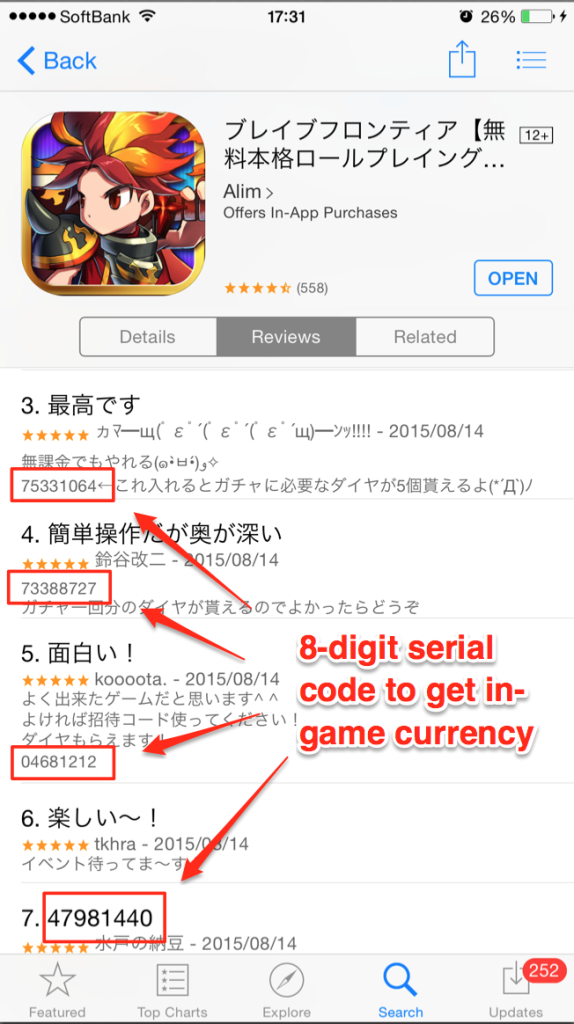 Again, this is not specific to Japan, but code usage is much more extreme here.
As just one "Japan-only" example, there exist a range of printed mobile game magazines whose primary selling point are serial codes that can be used inside the corresponding games to get unique items.
Here is a screenshot I made of one my magazines (Appli Fan Vol. 4 from 2012) just now: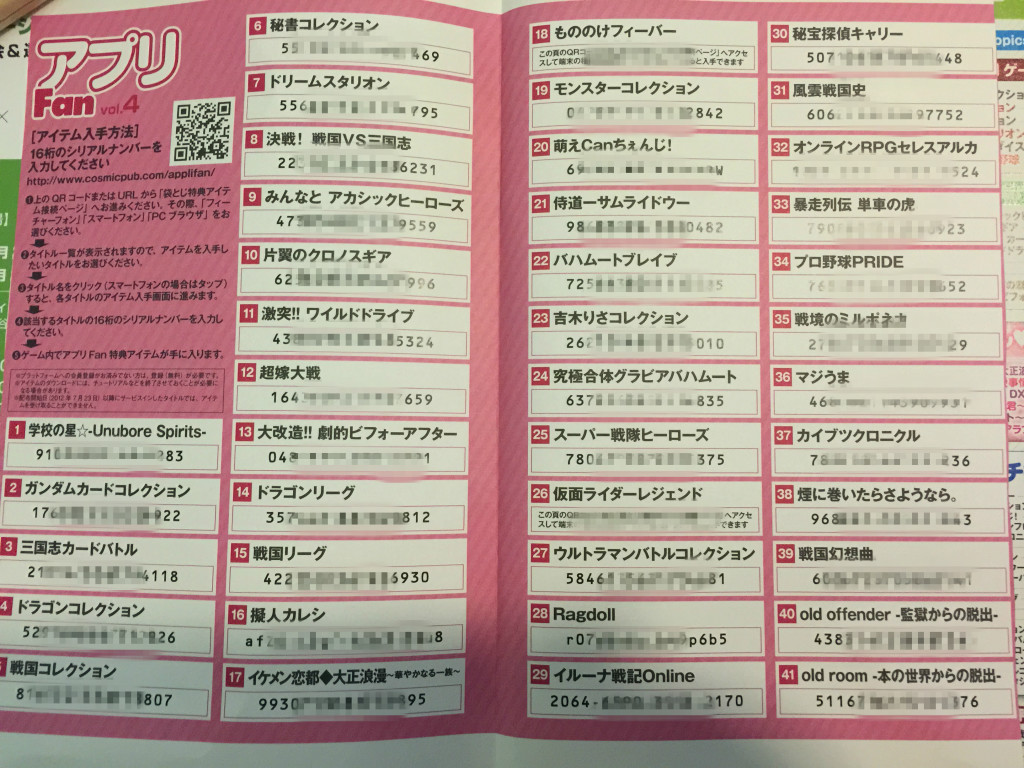 Note the 41 serial codes are pixelated (even though they should be unusable after 3 years).
Why Is Apple Against Using Serial Codes?
Apple has not given an official statement on why they temporarily banned Monster Strike.
However, under paragraph 11 of the App Store Review Guidelines, Apple states:
Apps that unlock or enable additional features or functionality with mechanisms other than the App Store will be rejected
The underlying issue seems to be that Apple doesn't like the fact that developers give away items for free – with Apple not getting its 30% tax on transactions – using a mechanism to unlock them.
The "mechanism" and "unlock" parts appear to be important because many Japanese games still give away items and currency for free on a daily basis, for example to celebrate milestones ("10 million downloads") or as daily log-in bonuses.
To keep retention high, Puzzle & Dragons' Japanese version, for example, drops magic stones for free regularly without a special occasion: one magic stone normally costs 100 yen, and Apple gets nothing in these cases.
(In Japanese apps, these free items are usually stored in "present boxes" on the starting page where they can be claimed later by users.)
But again, there is no "active" unlocking necessary and no special mechanism involved in these examples, which seems to be OK with Apple at this point.
Why Did Monster Strike Disappear So Suddenly?
Again, neither Apple nor Mixi have given out detailed statements so far.
Japanese blogs indicate that Mixi received warnings before: it is unlikely that even a company like Apple would just erase such an app with such an audience without prior consultation.
It can also be speculated that Apple wanted to make an example of Mixi, demonstrating that they don't shy away from enforcing rules even with developers worth US$2.9 billion (Mixi's current market cap).
And Mixi isn't the only one that was affected by Apple Japan's hard stance on code usage.
This Japanese blogger points out that in June this year already, Apple made Colopl (3668) stop using serial codes in its mega hit game White Cat Project.
There is a lot more to be said about serial codes and what they can be used for, but note that developers shouldn't expect such issues on Android: here, too, Google is much more lenient than Apple.