One question a lot of people are asking me frequently is how and why the social gaming industry in Japan has exploded over the last few years. There are a quite a few reasons for the expansion of the business, and one of them is the usage of good old TV commercials.
In sharp contrast to the US and Europe, for example, it's the platform providers, GREE and DeNA, in particular that are spending tons of money for this kind of promotion.
Macquarie Research estimates that Gree allocates about 90% of its advertising and promotion budget (about US$250 million in FY6/12) to TV spots. It's certainly the more aggressive of the two platforms.
Anecdotally speaking, I am seeing social game commercials in heavy circulation on national Japanese TV, both during prime-time and beyond.
And the makers have been using TV as a marketing channel for quite some time. Look at this chart: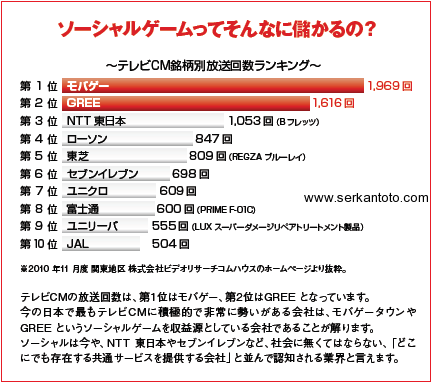 According to this overview, Mobage was the top brand in all TV commercials in Japan during November 2010, while GREE was the No. 2 – ahead of heavyweights like NTT (Japan's largest telco), convenience store operator Lawson, Toshiba, and 7-11.
A few days ago, Tokyo-based Zeta Bridge published a study under which GREE was the No. 2 TV advertiser in March this year in the Kanto region (around Tokyo and Yokohama):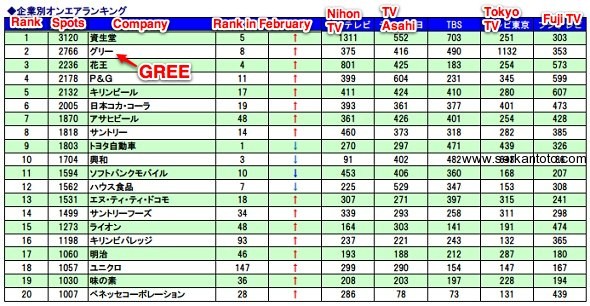 The above is a ranking divided by companies: GREE outpaces P&G (4th), Coca Cola Japan (6th) and Toyota (9th).
DeNA isn't present in the company ranking, but its social gaming platform Mobage has no problems making it into the ranking of individual brands/products: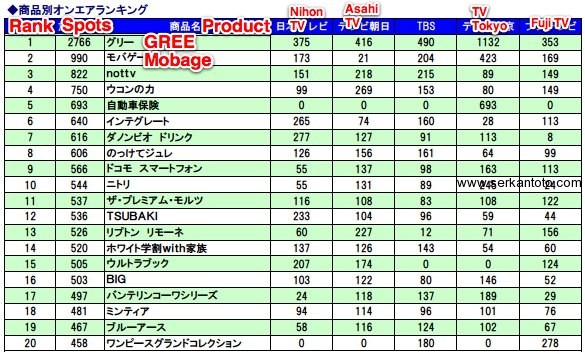 Economically speaking, running TV commercials isn't a problem as long as the acquisition cost of a new user is lower than their life-time "value". GREE and DeNA also use this marketing channel to rekindle interest in existing but inactive users and strengthen branding in front of a mass audience. The problem is how sustainable this marketing strategy is.
So how do these commercials actually look? If you live in Japan, I would say just turn on the TV and wait for 10 minutes for a spot to appear.
For people living outside Japan, YouTube offers a lot of TV spots promoting GREE and Mobage (especially those featuring celebrities).
TV commercial for GREE's AKB48 Stage Fighter (AKB48 is a popular pop band that promotes its own social game):
DeNA goes cute by using fashion model and actress Aragaki Yui for promoting Mobage:
http://www.youtube.com/watch?v=ZaWNZ_TwuIM
Charts two and three above via Social Game Info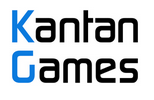 About Serkan Toto
I am the CEO & Founder of Kantan Games, Inc., a Tokyo-based game industry consultancy focused on the Japanese market. Please subscribe to updates on this site via RSS or Email.