From today, LINE, the impossibly successful messenger app made by NHN Japan, isn't a messenger app anymore. As previously announced by the company, LINE is now officially a social network.
By that, LINE tries to compete with Facebook. By focusing on mobile and a tight social graph, it tries to compete with Path. By integrating social games, LINE tries to compete with Mobage and GREE. By squeezing in tons of other stuff (music, mobile commerce, etc.) later, it will try to compete with pretty much everyone else.
Who wants to switch from all of these platforms to LINE? In the US and Europe, how many WhatsApp users will want to switch to LINE (and leave their friends and social graph behind)? How can they "out-design" Path? What's the plan to make game developers abandon Mobage and GREE?
This strategy of creating a "catch-all app" is a mistake. This plan by NHN Japan, which seems to have gotten carried away by LINE's success, will not work.
It waters down the value proposition of the app, tries to solve problems that are already solved, and tries to compete with platforms that already have millions or even hundreds of millions of users.
NHN Japan should have tried to find an angle to go after WhatsApp and other messenger apps that are successful in the US and other countries in Europe to become a global player – not against multiple social platforms at once.
My personal opinion can be found laid out in more detail here.
So what got actually changed today?
LINE's Android version (the iPhone app will follow later) now has two more core functions, "Home" and "Timeline".
NHN Japan explains "Home":
This page will function as users' own space, where they can use text, photos, videos, location information, etc., to share their recent events. Users can also choose their own cover photo which will allow them to express their own personalities.
In other words, this is one's personal social hub – or simply a profile page. NHN Japan cloned Facebook's idea of having a cover photo in one's profile (Path has this, too).
Home screenshot: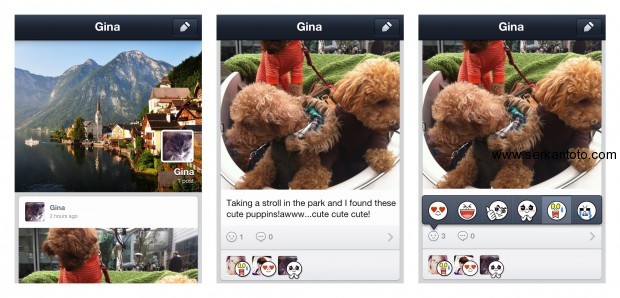 Here is how NHN Japan explains "Timeline":
Users can keep track of all their LINE friends' recent updates to their Home pages in a timeline format. 'Liking' posts are even more fun, with the addition of LINE's popular character stickers to express users' emotions in relation to posts. Of course, users can leave messages in text form as usual too. All this adds up to enhancing and enriching communication amongst LINE friends.
So this is basically a newsfeed. The only innovation I can see here is the integration of "stickers", LINE's famous large-sized emoticons. To a degree, this is also possible on Path (which puts more emphasis on emoticons as a social communication tool than Facebook).
Timeline screenshot: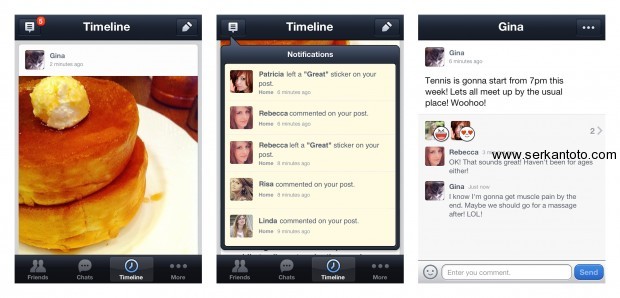 I personally expect LINE to grow further, especially driven by the smartphone adoption in Asia and aggressive marketing (NHN Japan is using TV commercials in Japan and other tools to promote the app).
But I think the highest NHN Japan can achieve is creating a large niche player in Asia: the app will certainly not be able to recreate the success outside this continent (again, even the messenger app market alone in the US/Europe is crowded).
And it will not be able to dethrone players like Facebook either, not even inside Asia (NHN Japan said that the final goal is to top Facebook as the world's leading social platform).
Again, please click here if you're interested in my perspective on LINE becoming a full-fledged social platform.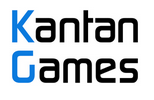 About Serkan Toto
I am the CEO & Founder of Kantan Games, Inc., a Tokyo-based game industry consultancy focused on the Japanese market. Please subscribe to updates on this site via RSS or Email.