Puzzle & Dragons, Japan's top smartphone game, now counts 9 million users: the puzzle/RPG hybrid actually reached that milestone on February 18, just a few days after hitting 8 million downloads late last month.
The chart below, compiled by Social Game Info, shows how Puzzle & Dragons grew to 9 million users since launch on iOS in February 20, 2012.
Versions for Android and Kindle Fire followed in September and November, respectively.
But make no mistake, the main reason why growth went through the roof wasn't going multi-platform but the TV ad campaign GungHo started in the fall of last year.
And as I tried to highlight earlier on this site, in Japan, heavy TV promotion is the most important (and powerful) tool to acquire users in social games – by very, very far.
It's not only Mobage operator DeNA, GREE or LINE that are using TV ads to promote games in Japan but also "pure" content providers like KLab, Crooz, A-Team (see here), Voltage, or newly listed enish.
In the case of Puzzle & Dragons, the first spot went live on Japanese TV in October 2012, followed by a second one in November.
That first ad was aired nation-wide exactly on October 15, 2012.
Observe how it took the game just 19 days to go from 3 to 4 million users right after TV promotion kicked in – after it took it 94 days to get from 2 to 3 million: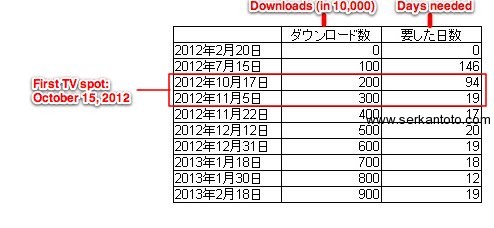 So in other words, growth – counted in million in this case – was accelerated by a factor of 5 through TV advertising. And as can be seen from the chart, GungHo succeeded in sustaining that growth rate from October to today.
So no wonder Puzzle & Dragons is estimated to make between US$54 and US$ 75 million per month – making it the most profitable mobile game out there.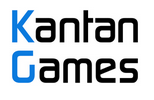 About Serkan Toto
I am the CEO & Founder of Kantan Games, Inc., a Tokyo-based game industry consultancy focused on the Japanese market. Please subscribe to updates on this site via RSS or Email.