GungHo Online Entertainment (3765), the company behind Japan's biggest smartphone game Puzzle & Dragons, has published its financial report for Q3 (July-September 2013) yesterday.
And things are not looking as good as last quarter (note: there are no English-language documents available).
To be more concrete, GungHo's sales in Q3 reached US$424 million (-5% quarter-on-quarter), while operating profit dropped to US$238 million (- 12%).
This is the first time GungHo saw these numbers drop after Puzzle & Dragons became a mega-hit in Japan late last year.
News site Social Game Info posted this graphic of how sales and profit developed for GungHo since 2010: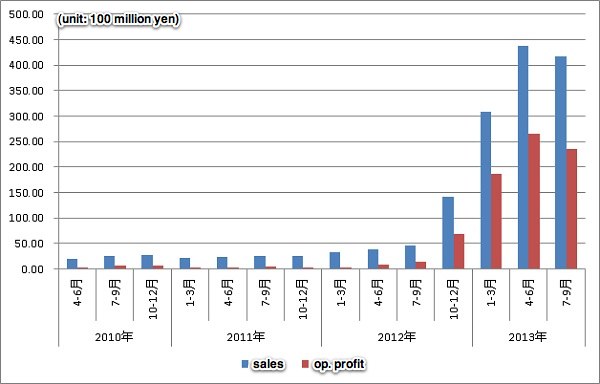 As a consequence, GungHo's stock dropped like a rock and was down around 19% at one point, limit-down.
The company has a US$9.3 billion market cap, but that number was much higher just a few days ago. Just look at this graph to see how the stock price developed since October 24: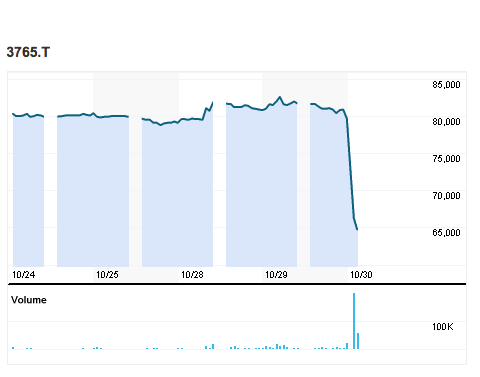 That's how brutal Japan's mobile gaming market can be: it's strange though, as the dip in sales and profit shouldn't have come as a big surprise to anybody in the industry over here. It was known that Puzzle & Dragons is running out of steam, not only in terms of user growth. I don't get it.
GungHo expects sales in October to reach US$132 million: the company has so far disclosed monthly sales in the past for January, April, July and October 2013.
GungHo's performance so far has been all about Puzzle & Dragons
Social Game Info used that information to visualize the correlation between downloads for GungHo's flagship title Puzzle & Dragons and monthly sales: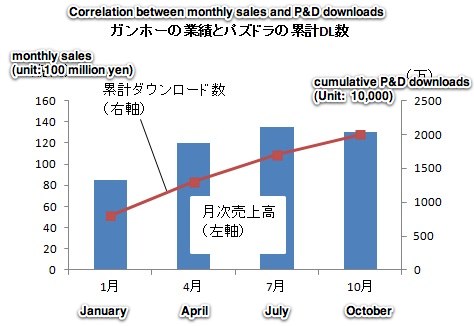 The same site also shows how daily downloads for Puzzle & Dragons in Japan have been dropping since the game hit 12 million users in April this year: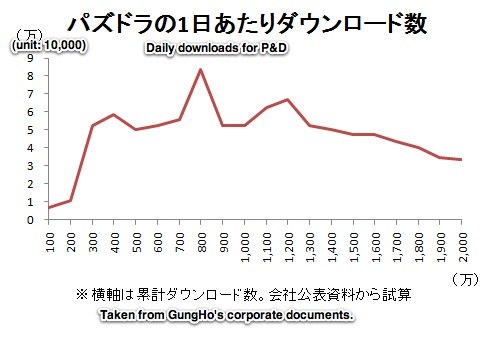 What's next for GungHo?
The data shows that it's about time for GungHo to become more active.
User growth for Puzzle & Dragons inside Japan is slowing down, even though the situation will likely get better around the holiday season (when gadget sales go up).
International expansion has been super-slow (Puzzle & Dragons is still not available in Chinese, Spanish, or German, for instance), but that will probably be one of the nuts Supercell will have to crack for its Japanese buyer going forward.
But not all is looking bad.
Divine Gate, the un-official follow-up to Puzzle & Dragons, just hit 1 million registered users in Japan, GungHo said today. The game is only available in Japan (an international version has been announced), has been lightly marketed so far but is monetizing nicely already.
"Puzzle & Dragons Z", a 3DS variation of the original game that looked very promising when I tried it at Tokyo Game Show last month.
GungHo also revealed the first TV spot for the title today:

The company officially predicts 1 million units sold in Japan, but I would expect many, many more. The game just looks like a big hit to me and has the right release date: December 12, just in time for the holiday season (not to mention the fact that the 3DS has been sold over 13 million times in Japan – a large potential user base).
The 3DS game is a perfect vehicle to monetize an entirely different target group: Japanese school kids and young adults who may not have access to an iOS or Android device with IAP enabled – but can certainly ask their parents to get them a US$40 packaged game for Christmas.
GungHo says it is trying to turn Puzzle & Dragons into a brand with long term value – which is why the original game will continue to be updated with events like the in-game collaboration with Batman this week, both in Japan and globally. Inside Japan, a special Baskin & Robbins-branded dungeon was added for 24 hours today – and yes, the monsters were eating ice cream.
Japanese mobile gaming companies are masters when it comes to planning and executing in-game events, and I would put GungHo on top of the list. Here is the perhaps most spectacular one so far.
Another big deal is the Supercell acquisition, which was praised by many mobile gaming industry experts to make a lot of sense for GungHo. History shows it usually comes with risk when a big Japanese corporation buys a foreign gaming startup. Other such deals did work, and I personally would expect this to be the case with Supercell-GungHo as well.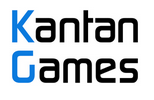 About Serkan Toto
I am the CEO & Founder of Kantan Games, Inc., a Tokyo-based game industry consultancy focused on the Japanese market. Please subscribe to updates on this site via RSS or Email.