Earthquake in Japan's social gaming industry today: a council of six major Japanese companies in this space today announced they will abolish the controversial "kompu gacha" (complete gacha) function from all of their titles by the end of May. No new games offering the mechanic will be allowed to be published on the major gaming platforms from tomorrow.
The companies belonging to the council are:
The council was formed in March, essentially with the goal to "control" the industry from within (much like the MPAA in America's movie industry). Click here for an overview of the areas the council is supposed to tackle.
Here's what GREE said separately today:
TOKYO, Japan – May 9, 2012 – GREE today announced that it will cease all new releases of "complete gacha" ("comp-gacha") on all social gaming and other services developed in-house and operated by the Company on its social networking service GREE, effective from tomorrow, May 10, 2012. GREE has also decided to discontinue all other comp-gacha currently in operation by May 31, 2012, following which date it will no longer launch new comp-gacha.

GREE does not view the comp-gacha function as an infringement of current Japanese legislation. However, having given the matter careful examination, and taking into account the input it has received from a broad range of stakeholders and its social responsibility as a provider of services to a large number of users, GREE has decided to discontinue the comp-gacha function in the interests of improving the content of its services for users.

GREE is currently coordinating with all related parties to prepare guidelines based on which it will seek a response from developers providing services on the GREE platform at the earliest possible date.
GREE doesn't say it explicitly, but this is effectively the end of the lucrative "kompu gacha" mechanic in all social games, provided by 1st-party and 3rd-party game makers alike, on any platform in Japan.
Japanese social games using this function include:
And these are just a few titles, from the biggest makers. There are many, many more.
Explaining "kompu gacha"
Under the mechanic, players who want to get a special/rare item must win a set of other items through gacha, an electronic draw, first. For instance, the user must first get item A through gacha, then item B (also through gacha), then C and D – and only if they can get items A-D (complete gacha), they win the rare item ("Grand Prize").
Example for a set of 4 gacha: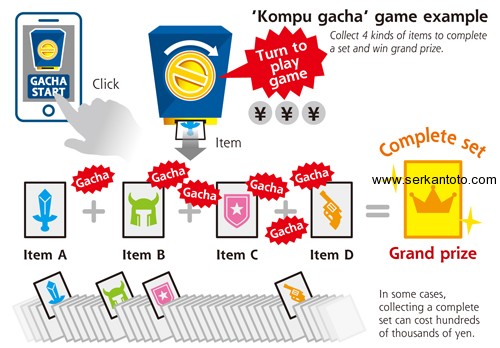 The problem: each gacha turn costs money (usually 100-300 yen), and the probabilities of winning are unknown to the player. Nothing is guaranteed: theoretically, makers could set the chance of winning to zero. During some "kompu gacha" plays, users are motivated by messages on the screen that prompt them to keep spending more.
In some cases, users are known to have spent thousands of US$ without getting the price they wanted. Japan's Consumer Affairs Agency is said to be regarding this scheme as a violation of local truth-in-advertising laws.
Chronology of the "kompu gacha" shock
Saturday, May 5:
Japan's social gaming industry started getting under pressure when the Yomiuri Shimbun, the country's biggest newspaper, reported last Saturday that the government is planning to crack down on the "kompu gacha" mechanic used in many social games on Mobage and GREE.
Some people in the industry, myself included, started speculating weeks ago that the Japanese government will regulate the industry after criticism on certain game mechanics started mounting earlier this year.
Keywords relating to the Yomiuri Shimbun article and some other media reports dealing with the topic were trending all Saturday on Twitter Japan.
Monday, May 7:
After the Yomiuri report on Saturday, shares of about a dozen companies operating in the social gaming industry plunged dramatically on Monday.
GREE lost almost a quarter of its market cap, while DeNA lost over 20%. It was a bloodbath: social gaming companies lost a combined US$3.8 billion in market cap on a single trading day.
Tuesday, May 8:
Things started to look stable on Tuesday (yesterday) on the Tokyo Stock Exchange. GREE published its Q3 report on the same day, and the positive numbers (profit grew 200% year-on-year) made things even worse, turning GREE into GREED in the eyes of many observers.
On Tuesday evening, Jin Matsubara (Japan's Minister of State for Consumer Affairs) commented on complete gacha for the first time, saying: "I feel social games are generating an extremely strong passion for gambling in users."
At this point, it was essentially clear that the government wouldn't wait much longer.
Wednesday, May 9:
As a reaction, GREE lost another 9.64% of its value on Wednesday (today), while DeNA lost 1.33%. After trading closed on the Tokyo Stock Exchange, DeNA published its (generally positive) financial report for Q4 and FY2011 during an earnings conference in Tokyo.
At about the same time, listed Japanese social game maker Klab announced they would erase the "kompu gacha" function from all their existing games by May 31 to make themselves independent from any (possible) impending regulation by the government. One day earlier, the company already caused a splash by saying that they estimate sales would only decrease by 5% or less if the government regulated "kompu gacha".
This was just the first bomb that exploded: just minutes later, at DeNA's earnings conference, CEO Isao Moriyasu announced that his company will stop offering the function in their social games without waiting for the government to step in.
GREE and CyberAgent quickly followed up with similar announcements and later coordinated with Mixi, Dwango, and NHN to issue the joint statement I linked to in the first paragraph and thus bury the "kompu gacha" mechanic.
More perspective in this article on EDGE Online.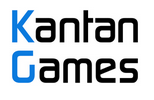 About Serkan Toto
I am the CEO & Founder of Kantan Games, Inc., a Tokyo-based game industry consultancy focused on the Japanese market. Please subscribe to updates on this site via RSS or Email.