Zynga Japan will close its office in Tokyo at the end of next month, CEO Kenji Matsubara posted on Facebook today.
The move was (kind of) pre-announced back in October by Zynga proper's CEO Mark Pincus. One month later, Zynga Japan said it will stop supporting three games by today.
Here is Matsubara's – public – status update from today (December 21, Japanese time):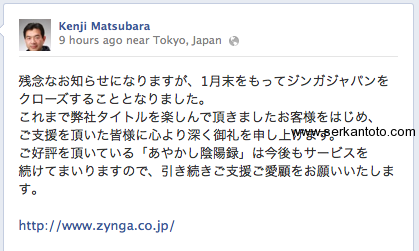 The text says that Zynga Japan will be shut down at the end of January, that Matsubara thanks users for playing his company's games, and that service for popular card battle game Ayakashi will be continued.
Here is a summary of Zynga Japan's short history:
July 2010
Zynga raises US$150 million from Japanese tech powerhouse SoftBank (link).
August 2010
Zynga buys Tokyo-based social game maker Unoh and turns it into their Japan subsidiary (link) and releases a number of their US titles in Japanese.
March 2011
The company replaces the CEO (link).
July 2011
Zynga Japan shuts down 2 of their US games that were deployed on Mixi (link).
December 2011
Zynga Japan continues to localize US games anyway, i.e. Empires & Allies (link).
February 2012
Montopia, the first game entirely developed in-house by Zynga's Japanese team, is announced on iOS (link).
March 2012
Montopia hits the Japanese Android Market (link).
May 2012
Zynga Japan rolls out its second title with original IP, social card battle game Ayakashi Onmyouroku (
link
).
September 2012
Zynga proper announces localized versions of Montopia and Ayakashi for the global market (link).
October 2012
Zynga proper says closing the Tokyo office is under consideration (link).
November 2012
Zynga Japan announces it will stop operating three games in December 2012 (link).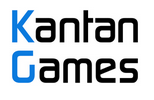 About Serkan Toto
I am the CEO & Founder of Kantan Games, Inc., a Tokyo-based game industry consultancy focused on the Japanese market. Please subscribe to updates on this site via RSS or Email.