Mixi (2121), Japan's once largest social network , is back from the dead.
In September 2006, Mixi was the first s0-called Web 2.0 startup ever to go IPO and managed to maintain its status as a large-cap company for years until it stopped innovating and was hit by a flood of competitors: DeNA (2432), GREE (3632), Twitter Japan, Facebook Japan, LINE, and others.
Mixi's Fall: Too Many Competitors
I am simplifying, but around 2011-2012, users started considering Mixi essentially "over" on the Japanese market. In May 2012, Mixi shares traded at at around 1,500 yen, less than 10% of their historic high (achieved in 2008).
Over the years, Mixi did try many things to turn around, i.e:
Nothing worked. The stock price kept staying flat and was even further falling until mid-November 2013, when shares were down to just over 1,000 yen.
But then a "miracle" happened.
Mixi's Key To The Comeback: Monster Strike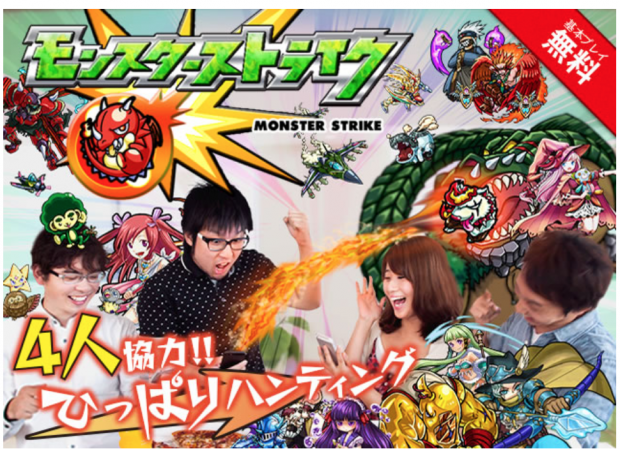 As it turns out, Mixi did one thing right: deciding to develop mobile games in-house.
One of those titles, a native app called "Monster Strike" started looking like it was about to become a hit on iOS (where it launched at the end of September 2013) around the end of November last year.
Japanese users started not only downloading but also paying for it – without any kind of special mass-marketing to speak of.
As a result, Monster Strike kept climbing up in the grossing ranking on iOS: on November 18, it was ranked 136. On November 20, it was at position 43. On December 10, it moved up to No. 27: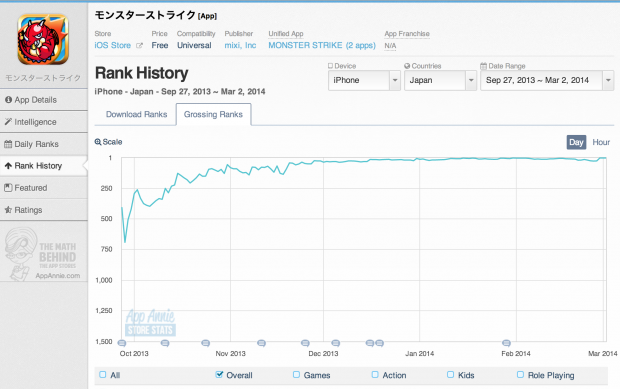 December 10 was also the day on which Mixi shares jumped over the 9,000 yen price point: in other words, Mixi was a billion dollar company again in December, thanks to a single game that was out on a single platform – and only in Japan.
And even though one day later Goldman Sachs issued a negative report that made the stock go down substantially in the following week, it managed to bounce back.
Here is how Mixi's stock price moved over the last 12 months (up until March 2):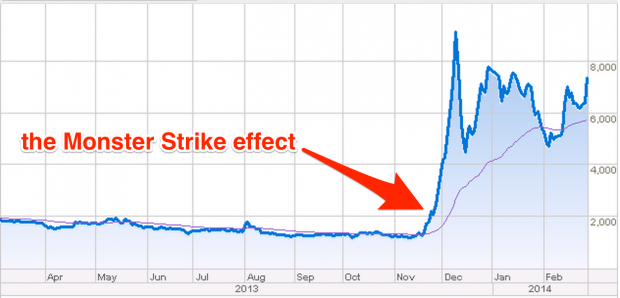 The Monster Strike Hype Continues
To maintain the hype around the game, Mixi announced an Android version on November 1. One month later, Monster Strike was released on the Google Platform and did similarly well on the revenue side: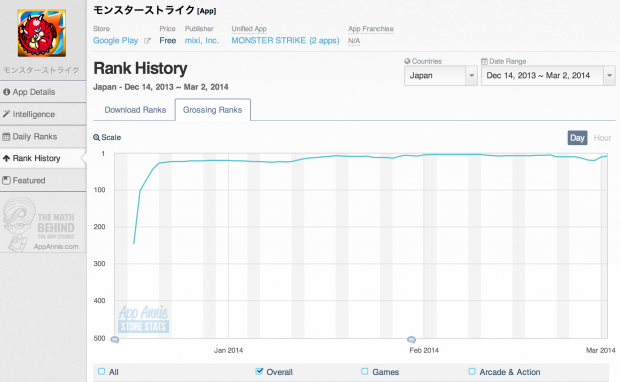 The success seems to have shaken things up drastically at the company, as on February 13, Mixi announced another new CEO, just months after founder Kenji Kasahara left for Yusuke Asakura (in June 2013): the new CEO Hiroki Morita is the head of the studio that produced Monster Strike.
According to Mixi, the game racked up 3 million users by February 15 (on both iOS and Android combined), with the last 500,000 users joining in 16 days.
To make sure the game isn't losing steam, Mixi started using the one tool that works best in Japan to reach millions of users at once: TV advertising.
On February 28, Mixi said it seek to raise $64 million through a public stock offering, the first time in its history, to promote the game on TV.
On March 1, the company already started airing the following three commercials on national TV:
Today, it seems like the strategy is working: Monster Strike is the No. 3 grossing iPhone app in Japan and No. 7 on Android at the time of writing.
Mixi's core product, the social network, may still be declining – but financially speaking, Monster Strike is a godsend: instead a US$16 million loss, Mixi is now projecting an operating profit of US$2 million for the fiscal year through March.
This is surely not Puzzle & Dragons territory, but Mixi is currently boasting a US$1.1 billion market cap.
Monster Strike: The Game
So what is the fuss about?
Monster Strike can perhaps be best described as mix between action and RPG: players control a total of 4 monsters inside an arena in which they need to kill waves of enemies until a boss character appears at the end of the stage.
What sounds rather bland is actually a very fun game with great presentation and high production values (I myself especially like the creature design).
The innovation on the gameplay side is that players battle each other not through navigating menus and choosing commands but by applying a cool pinball or billiards like mechanic to the monsters themselves. Skill is key, i.e. getting combos to maximize damage or choosing the right monster type against certain types of enemies.
It's hard to explain in words, so here is a gameplay/battle video:
Needless to say, the game also offers elements like collecting monster cards, creating decks, fusing two or more monsters to create stronger ones, playing gacha, clearing missions, entering special events, etc.
Another interesting element, next to the cool battle system, is the multi-player mode that allows up to 4 users to fight monsters together at the same time. At the moment, this mode is only available via bluetooth.
It's also interesting that this mode does not represent PvP but cooperative team play only: users team up to fight enemies together, not each other. In multiplayer, stamina and continues can be shared (one user spending one continue, for example, enables all players in the round to go on with the game). It also offers special items that can't be obtained in the single-player mode.
It remains to be seen how Mixi will keep expanding and improving the game over the next months.
Outside Japan, Monster Strike has been announced only for China (via Tencent) thus far. However, I recommend just trying out the Japanese version (iOS, Android) – a Mixi account isn't necessary.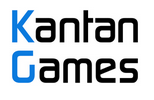 About Serkan Toto
I am the CEO & Founder of Kantan Games, Inc., a Tokyo-based game industry consultancy focused on the Japanese market. Please subscribe to updates on this site via RSS or Email.